Threading is an ancillary treatment that helps minimize lines and wrinkles around the lips, forehead, perioral area (around the mouth) and facial lines. The treatment is beneficial for those wishing to minimize fine lines, not heavy folds.
The treatment is accomplished by "threading" a suture (stitch) material in the area of the line, which in turn activates one's own matrix and scar tissue to fill out the depressed area. Usually a permanent suture such as Gore-Tex or Dexon is utilized for these reconstructive treatments. For those requiring fuller augmentation Advanta™ an ePTFE product is available.
Threading can be done in the office under local or sedation anesthesia, when combined with cosmetic surgery procedures. Swelling and bruising may occur; however, the procedure is performed through needlepoint entries, therefore, requires no incisions, which lessens healing time. The treatments take from one-half to one and one-half hours to complete when done under local anesthesia.
Advanta™ Facial Implants are a new biomaterial, an ePTFE (expanded polytetrafluroethylene) product. These permanent and persistent yet removable implants are an alternative to temporary fillers, which also restore volume and fullness to facial rhytids (lines) or lips, however touch-up treatments are often necessary to maintain results.
Advanta™ helps minimize facial folds and gives definition and youthfulness to lips. These implants have shown permanency, softness, reliability, minimal reactivity, and high patient satisfaction.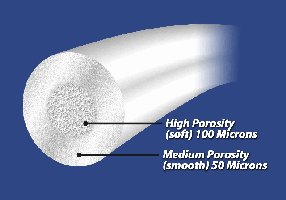 Advanta™ helps to minimize facial creases and furrows by providing structure and support underneath the skin. It is a permanent material and will remain in the area unless you choose to have it removed. As you age, furrows or lines may slowly reappear over time.
Placement of the implant is a simple procedure usually performed under local anesthesia or under sedation, when combined with other Facial Plastic and Cosmetic Surgery procedures. A small incision or needlepoint entry is made at the ends of the implant site and the implant is inserted and gently positioned. Sutures (stitches),if required usually dissolve in seven to ten days. In some instances, tissue glue is used in lieu of sutures. Some swelling and bruising may occur with these procedures. These procedures take from one to one and one half-hours to complete, if performed under local anesthesia.
UltraSoft™
UltraSoft™ is a made of a soft, pliable synthetic material called ePTFE. This material has been safely used in an extensive range of medical and surgical procedures. In cosmetic surgery it offers one a long-lasting solution in the treatment of facial lines or lip enhancement.
UltraSoft™ is a simple in-office procedure that usually takes less than one hour. The treatment is performed under local or sedation anesthesia, when combined with other facial cosmetic procedures. The implant is inserted below the surface of the skin through a small incision.
Since each person's experience with the UltraSoft™ facial implant procedure may differ, it is important to talk with your doctor about what you can expect following the treatment. Immediately following treatment soft tissue restoration is visible. Swelling, bruising, or some discomfort will occur. Some patients may experience a sensation of tightness at the implantation site. Up to one week following treatment most swelling and bruising should disappear. Although one may always be able to feel the implant under your skin, softening of the implant is anticipated over time. Three to four months following treatment continued softening of the implant is anticipated. Most of the healing is complete and facial contour is restored.